to
mY UdDeRlY kEwL

Page!!!
This is the part of my site that I get to tell you all about God's greatest creature on earth..That is right s What would u like to know..Where shall I begin..Well I like dairy s the best and u dont need to kill em so you can eat em..YUCK.. I dont think that they need to be killed at all but that is my view and i know i am going to get hell for having it but oh well... Here is a site Lovers should go check out it is a page dedicated to stopping the stopping the killing of suspected of having Mad Disease. http://www.mad-cow.com/ ...s are really cool animals. They like to eat grass and give milk.They come in a few different colors. There are black s, brown s, white s and mixed colored s. Even though today s are considered stupid animals that are good only for producing food, they have a fascinating history. s Give us milk Give us beef Eat grass MOO! Walk around Sleep while standing and Produce fertilizer.. . You will find some kewl cow facts, cow links and cow pics on this page. If you have anything to add to this page, please email me, icq me or yahoo page me.
One of my fav places on the net to visit is lavache.com. Lavache means cow in french and this site is in both english and french. Check it out. And tell em cowlovergirl send ya. You can also find the link to that page on my links page....

Milk is really kewl – a most excellent drink. But have you ever wondered where Milk comes from? How is it made? Why is it so good for you? To discover these awesome facts about milk keep reading… from Moo to you!!
As you know, especially from my web page, the most popular and common breed of dairy cow in Canada is the Holstein, which originally came from North Holland.
You can recognize these cows by the large black patches on their web bodies.
This breed produces the most milk of all and makes up 95% I fgt. dairy cows in Canada.
There are about 1,200,00 Holsteins in Canada.

The remaining 5% of dairy cows include four other breeds – Jersey, Guernsey, Ayrshire, and Brown Swiss.

Udderly Kewl Cow things to do on the net:
apply for the top cow site award (click on it to go to that page)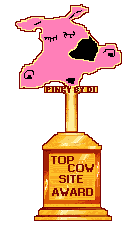 Visit the Art Cows Virtual Gallary
do you have icqplus? Well download a cow skin for your icq

play this udderly kewl cow game..

Click to get some kewl Cow sets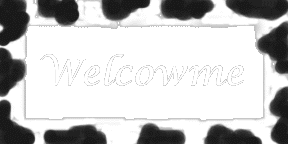 Do you yahoo?Here is a kewl cow skin for your pager.
http://www.geocities.com/SoHo/Gallery/1087/skins/skins3.html

Join this yahoo club called collectors of cowstuff
Join my udderly kewl collecting club for people just like you :)

download a cool cow desktop theme
More udderly useless cow facts!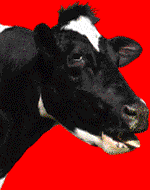 The Jersey is light brown with big brown eyes and produces rich, yummy milk. Originally Jerseys came from a small island in the English Channel, as did the Guernsey cow.

The Guernsey is a golden color with white spots.

The Ayrshire is from Scotland and is white with reddish brown patches.

Switzerland was the original home of the Brown Swiss whose coloring is dark brown or silver Grey find these faraway places on a map.
When you look at a diary cow, you wouldn't guess that she eats tones of food each year but it is true. Most of this food energy is used by the cow to make about 24 l of nutritious milk every day.
In order to make milk, a cow must first have a calf which happens when she is about two years old.
my newest cow, i got her the other day
more udderly kewl milk links
some of my cows. none of these are recent pics..
my cow tattoo located on my right ankle
---
icq me @ 12587165 or yahoo pager me (cowlovergirl22)

This page was updated on:
04/10/00

Sign My Guestbook
View My Guestbook


click on the cow to view old guestbooks

my member # is 0222077 please say that i referred you. Thanks