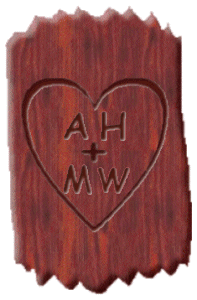 This page is dedicated to Mick & Me. We met May 21, 1998 on Random Chat on ICQ . It was my first time using ICQ and didn't have anyone on my contact list at all. It was pure fate that made me talk to him. We chatted for hours that night. Then exchanged email addresses. I didnt think I would talk to him again but I did several days later. And he sent me virtual flowers to thank me for the nice chat. We started talking more and more and then on the phone. (after much beggin for his number) Next thing I know Him and I met. We met in Toronto. He flew in to spend a week. (we was living in texas at the time). We did a lot of stuff that week, even got to go see Metallica in concert. I was really really sad to see mick go, but i knew we would be together again. Sure enough a month later I was the one flying to texas to see him. I spent 20 days there, and had a great time. I had to return home again, but we knew love would find a way. @ months later Mick came to canada, where he stayed for 6 months. He was there during the winter (culture shock lol). We came back to texas together and stayed for 2 months. Then we returned back to canada for another 6 months. Now we are back in texas, and trying to find out where we should live.
I'm an only child. My parents used to have a dog named Friskie (RIP) but on Dec 27th 1999 they had to put him down because he was sick. He was 15 years old though, I really miss him. He was a collie/husky mix. There is photos of him on my pic page. I have a dog of my own. My baby, KING. He will be 3 on June 1. I also have photos of him in the photo album. I got my tongue pierced in July of 98. It didnt hurt and I eat just fine. Thanks for asking. Mick had his tongue pierced also but took his out to give to me when I had problems with mine. I have a turtle named Leo and a fish named Goldie. I have over 750 cow things, 150 beanie babies, 30 barbies, two furbies (a black and white cow spotted one and a brown one with white markings), sea monkeys, and a partrage in a pear tree LOL. I also have a cow tattoo on my right ankle that i got when i turned 19.
I love Hockey and hope that Toronto wins the cup. I am a Taurus with blue eyes and reddish hair. My birthday is May 14, 1976.To find out what my name means you can go to my name part.I took my first plane ride to go to Texas and when I was there I did the skyflying thing at six flags where you see your life go by you at a zillion miles an hour lol. But it was defaintly the coolest thing in the world.I am so proud of myself for doing it.. I am terrified of snakes too and I also went to the Rattle Snake round up in Sweetwater,Tx. I am still scared of them LOL but I didnt die or faint or anything.
My fav movies are The Lost Boys, & Stand By Me. I guess you can say I am stuck in the 80's too. LOL You can find out if you are stuck in the 80's by taking the quiz here. I like all kinds of music and tv programs. I am a big X-files fan and just recently we got the copy of Micks fav one called HOME. I also like Ally McBeal,90210 & PO5 (they have been my favs forever). I also like to watch Rosie O'Donnel and The 70's show. We watch the Simpsons too and sometimes Home Improvement. I try my hand at Jeopardy also online and on tv.. I like to write stories and poems and hope to one day become a writer. I went to College for Computers.(Microcomputer Business Applications) I dont eat meat other than chicken. I like eggs (sometimes lol) and dairy products but I dont like meat.. never have never will.
The music I listen to is everything from Shania Twain to Alanis Morissette.I really love Aerosmith and would give my right arm to see them in concert. I also like Metallica. Most recently we went to see Alanis in concert..whoo hoo it was for my bd Got to stand really close to her and her even The Crash Test Dummies were good. We waited outside for more than 2 hours to meet her and get her autograph lol and although her whole band came out we left before she did if she ever did. Alanis if you are reading this then let me know if you ever did come out LOL. Mick and I also went to see Metallica and let me tell you it was very cool. I also met the band OLP (our lady peace) on Feb 7th 1998. I have some pics in the photo album of that. It was really neat and there concert was cool. I have gone to see Melissa Ethridge also with Ashley McKissic. That was a very cool concert cause Ashley kicked butt. He is the fiddler dude LOL. Hmm well I went to Phil Collins when I was in grade school too LOL. Mick and I got to go see Kid Rock also. It was really good show with Powerman 5000 opening and Professional Music Murders. Mick used to love Van Halan so when we went to see David Lee Roth this year, he was really excited. I had a good time also there. We are going to go see Def Leppard on Jan 19/00. I cant wait to go :)
When star wars opened we went opening day to see it. It was so worth the wait. George Lucas is a genuis. I so can't wait till the others are out. We went to the 3;30pm show on opening day and was lucky enough to buy a program or two.. these programs are exlusive to canada, plus to cinplex odean theatres and only 900 were giving away per theatre and if all that wasnt enough lol they were only available that one day..
We are in texas right now. We got here on Sept 28th.1999. Its very pretty and the weather has held up nicely. I have found a lot of pez so far. I will be applying for a permant work visa and all that fun stuff. i will be updating reguraly so stay tuned.....It was a long trip to get here. We had a 5 hour wait in St.Louis Missouri. That was really only the layover we had. But when we left espanola at 10 am we got to sudbury and had time to eat a sandwich each. Then it we didn't eat again until Tuesday at like 2 am. I don't even know what state we were in. I got to see a lot of the country that is for sure. Oklahoma was really pretty and in st.louis it was scary. There was a lot of bums and people asking for money and cigerettes. Geez smokes are only 2.50 and they still didn't get them. I was really sick on the bus from lack of sleep. Only slept for like 3 hours one day and 2 the next. We ate in st.louis again at the bus stop and it was hotdogs and chips. Gross. Then I look outside and see a taco bell and kfc right across the street. Was I ever pissed. I did make mick go there and get me a gorgeta. Yummmmm now I wont have to eat it again for a while. It took like 8 hours or more to get to detroit. To the border. It was alright going threw customs but the other people on the bus had to go too and some were layed over. We waited for a good hour on this one girl Meet some really intrestin people. People sure arent shy to share there life with strangers. Meet a girl from austria acouple from springfield missouri and a bunch from oklahoma. We were on the bus that goes to california. I should have kept going. We went from sudbury sudbury to toronto toronto to detroit. Detroit to chigaco (which was really windy) chigaco to st.louis. St.louis to oklahoma. I think we went threw other states too I don't know. I have been to new mexico also and of course texas so now there is only 40 more states to go see. I want to go to the pez museam in san fransico. As soon as we got off the bus micks mom took us to eat and this store we ate in had beanies and pez in it. I got me a cow he s really cute and fully posible. For four of us to eat at this really good restraunt called The Crackle Barrel. it was only 35.00. wow. I cant believe how cheap it is here. I got me some pez too and another one of the mechanical one like I had. Micks aunt got me the rosie odonall barbie doll its so cute. I got me another chick filla cow too hes cute.
Hope everyone had a merry christmas and a happy new year. My new years resolutions are to defaintly loose some weight, eat heatlier and to drink more water. I also want to spend more time on my writings, and get my life in order..

Visit these other pages also:

this page was updated on:
04/10/00 10:49:36 PM
Sign My Guestbook
View My Guestbook

click to view old guestbook entries